Business incorporation in Abu Dhabi | BIZ EASY
What you need to know to set up a company in Abu Dhabi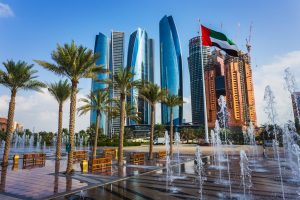 Abu Dhabi, renowned for its breathtaking skyline, rich culture, and thriving economy, has emerged as a global hub attracting entrepreneurs and businesses from around the world. This surge in interest can be attributed to a series of forward-thinking government initiatives introduced over the past decade, including innovation programs in AgTech, Healthcare & Biopharma, and ICT, among others. One sector that has particularly thrived in Abu Dhabi is the oil and gas lead by Government owned Abu Dhabi National Oil Company. If you're considering venturing into this lucrative sector, there's no better place to set up your business than in the heart of the capital of the UAE.
Abu Dhabi- The Epicenter Of the Oil and Gas Industry
Abu Dhabi's rise as the oil and gas capital of the world is nothing short of remarkable. With abundant reserves of oil and natural gas, this emirate has positioned itself as a global energy leader, a reputation that continues to attract businesses looking to tap into the energy sector's vast potential. Here's why Abu Dhabi stands out:
Strategic Location: Abu Dhabi's strategic location along the Arabian Gulf places it at the crossroads of Europe, Asia, and Africa. This geographical advantage provides easy access to major global markets, making it an ideal hub for energy-related businesses.


Abundant Resources: Abu Dhabi is home to some of the world's largest proven oil reserves, with its oil fields accounting for a significant portion of the UAE's production. Additionally, the emirate boasts substantial natural gas reserves, making it a hotspot for energy exploration and production.


Investment-Friendly Policies: The UAE government has taken significant steps to attract foreign investment, such as introducing foreign direct investment and offering various incentives and tax benefits to businesses operating in all the major sectors including oil and gas. This commitment to a business-friendly environment has drawn countless international companies to the region.


Infrastructure and Technology: Abu Dhabi has invested heavily in state-of-the-art infrastructure, research facilities, and advanced technology to support the oil and gas industry. This commitment to innovation enables businesses to thrive and stay competitive.


Stable Economy: The UAE, including Abu Dhabi, maintains a stable and diversified economy, reducing business risks associated with market volatility. This stability is particularly attractive to investors in the energy sector.
Abu Dhabi's Thriving Manufacturing Sector
Abu Dhabi's Manufacturing Industry is a magnet for new businesses seeking to establish themselves in the region. With a substantial 10 billion AED investment and a commitment to doubling the manufacturing sector's size by 2031, along with increasing non-oil exports and creating thousands of jobs, Abu Dhabi's Industrial Strategy offers compelling opportunities.
Abu Dhabi Manufacturing industries strategy is built on these key pillars:
Circular Economy: Prioritizing sustainability and resource efficiency, both locally and globally.


Industry 4.0: Embracing advanced technologies and digitalization for enhanced manufacturing processes and innovation.


Talent Development: Ensuring a skilled workforce to contribute to sector growth and competitiveness.


Ecosystem Enablement: Creating a supportive business environment that fosters collaboration between local and foreign manufacturers.


Homegrown Supply Chain: Strengthening domestic supply chains for self-sufficiency.


Value Chain Development: Streamlining production and delivery for increased competitiveness.
Abu Dhabi's Carbon Neutral Initiative
Abu Dhabi's Carbon Neutrality Initiative isn't just about environmental responsibility; it's a golden opportunity for investors. Here's how:
Green Energy Innovation: Abu Dhabi is shifting its focus from oil and gas to green energy. New businesses in the renewable energy sector can thrive in this evolving market.


Reduced Regulatory Hurdles: The government's commitment to emissions reduction means potentially fewer regulatory obstacles for businesses adopting sustainable practices.


Global Recognition: Being part of a carbon-neutral ecosystem enhances your company's global image, attracting environmentally conscious customers and partners.


Collaborative Ecosystem: Abu Dhabi's collaborative approach involves both public and private sectors. New businesses can tap into a supportive network for growth and innovation.


Resilience and Sustainability: Abu Dhabi's strategy includes climate adaptation, making it a secure location for businesses that prioritize sustainability.
Abu Dhabi, known for its diverse business sectors, has launched successful innovation programs in recent years. These programs are boosting the region's economy and turning it into a thriving innovation hub. As a result, they're attracting both new entrepreneurs and established businesses, making it an exciting place for business opportunities.
Abu Dhabi's Innovation Programs
Tourism: Abu Dhabi's tourism sector is booming, with over 11 million annual visitors, offering exceptional experiences across seas and deserts. Tourism supports over 300,000 jobs and is forecasted to grow by more than 5% annually with significant investment. The commitment to promoting natural landscapes, culture, and heritage makes Abu Dhabi a world-class destination.


ICT: Abu Dhabi boasts advanced technology infrastructure with the world's highest mobile telephone penetration rates. It achieved 100% fiber-to-home broadband connectivity and is home to the world's first AI university. Supported by entities like the Abu Dhabi Digital Authority and Etisalat, it is the smartest city in the Middle East and North Africa, making it an attractive prospect for ICT investment.


AgTech: Abu Dhabi's plentiful land and year-round sunshine have attracted ambitious AgTech companies focusing on arid climates. With over 24,000 farms across 75,000 hectares of land and the construction of the world's largest R&D indoor vertical farm, Abu Dhabi is a hub for agricultural innovation.


Financial Services: Abu Dhabi is the region's leading financial hub, contributing 60% of the UAE's GDP. With over 120 financial service providers and the UAE's only digital sandbox for financial services, it offers unparalleled access to global markets and a supportive regulatory framework.
Abu Dhabi's strategic location, abundant resources, investment-friendly policies, infrastructure, stable economy, and thriving sectors like tourism, ICT, AgTech, Oil & gas and financial services make it a prime destination for innovation and investment. Its commitment to fostering growth and innovation across various sectors sets it apart on the global stage.
At Biz Easy, we offer more than just company formation services. Our comprehensive range of services in Abu Dhabi is designed to make your business journey smoother and more successful. Whether you're a startup or an established enterprise, we have the solutions you need to thrive in the vibrant business landscape of Abu Dhabi.
Our Services includes but not limited to
1. Company Formation (License Acquisition, Renewal, Liquidation)
Start and manage your business in Abu Dhabi with ease. We handle all aspects of company formation, from acquiring licenses to managing renewals and liquidations.
2. Visa Services (Acquisition, Renewal, Cancellation)
Navigating Abu Dhabi's visa requirements can be complex. Let us streamline the process for you, from visa acquisition to renewals and cancellations.
3. Corporate Bank account opening
Access our expertise in setting up corporate bank accounts tailored to your specific business needs.
4. Office Solutions and Expatriate Housing Support
Find the ideal office space and housing options for you and your employees, ensuring a smooth transition to Abu Dhabi.
5. ADNOC & SPC Registration
Register your company with Abu Dhabi National Oil Company through Supreme petroleum council to work with the government directly in Oil and Gas field sector.
6. HR Support (Including Payroll Calculation)
Simplify your human resources management with our comprehensive HR support services, including payroll calculation.
7. Accounting and Tax Services
Stay compliant and efficient with our accounting and tax services. We handle everything, from bookkeeping to tax filing, meeting with auditors, and introducing accounting software.
Understanding the Legal Forms
There are 4 prominent legal forms in Abu Dhabi
Limited Liability company & Sole Proprietorship Limited Liability Company
Establishment
Local Branch
Foreign Branch
Limited Liability company & SP-LLC: An Abu Dhabi Limited Liability Company (LLC) offers sophisticated liability protection, where shareholders/shareholder are only responsible for their own shares.
This choice is favoured by astute entrepreneurs and organizations entering the UAE market. It reflects their commitment to establishing a resilient presence in the dynamic Middle East region, thanks to the streamlined LLC formation process and an array of tailored business incentives.
Benefits of setting up a Limited Liability company or a Sole proprietorship LLC
No minimum capital requirement (except for specific activities).
No local company taxes.
Opportunity for investors to obtain UAE residency visas.
Flexible profit and loss distribution based on share capital in LLC.
Ease of establishing branches.
No restrictions on owning properties or offices in the Emirates.
Convenient global and local bank account creation.
Freedom to engage in various commercial and industrial activities.
Unrivalled access to the UAE economy.
Establishment: The "Establishment" legal form is exclusively available to UAE Nationals and GCC citizens. It operates as a sole proprietorship, allowing only one shareholder. This option is highly cost-effective and has a quicker incorporation process compared to Limited Liability Companies (LLCs).
Local Branch: This legal structure, as the name implies, is designed for companies aiming to expand their operations within the same emirate or across different emirates within the UAE. In Abu Dhabi, forming a branch is only permitted if your primary company is registered as a Limited Liability Company.
Foreign Branch: A UAE Foreign Branch Office is an extension of a foreign parent company, not a distinct legal entity. Its business operations must align with the parent company's, including obtaining a trade license with the same name and activities. Its primary role is to market the parent company's products and provide services to customers in the UAE.
Set up and operate your company with Biz Easy 
Biz Easy is your one-stop-shop for high-quality services designed to kickstart your freezone company in the UAE. We understand the ever-evolving business environment of the UAE, and our team is dedicated to helping you not only establish your presence but also thrive in this dynamic country.
Expedite your entry into the UAE freezone today! Call us at +971547180052 or send a Whatsapp Message on +971547180052. You can also drop in an email info@bizeasy.co and get the answers to your queries.
Ready for expert guidance? Don't hesitate! Secure your free consultation by submitting your details below. Let's transform your business together.
​
https://www.bizeasy.co/wp-content/uploads/2023/09/shutterstock_163833845-1.jpg
1280
1920
Kenichi Hokamura
https://www.bizeasy.co/wp-content/uploads/2022/01/Biz-easy-logo-1030x198.webp
Kenichi Hokamura
2023-09-15 17:17:31
2023-09-26 17:02:12
Business incorporation in Abu Dhabi | BIZ EASY